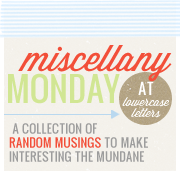 I spent the weekend in San Diego with my family.
In honor of Miscellany Monday here are some random things that Biggie said this weekend.
We got to San Diego and we had about 3 hours until Match and Papa were done with dinner so Sissy and I decided to drive the boys over the Coronado Bridge. As we were driving around Coronado I mentioned something about the Navy Seals.
Biggie: Aunt Airplane, what are Navy Seals?
Me: They are an elite force of fighters.
Biggie: Do they fight bad guys?
Me: Yes, they do.
Biggie: Do they kill bad guys?
Me: Yes, they do.
Biggie: Then they are awesome!
All weekend he asked me if he could listen to "Hey-yo" on my phone. And then I would give him the phone and he would sing Taio Cruz' "Dynamite." The kid can rock!
He is apparently learning about the predator/prey relationship, so every animal that we talked about he would ask, "What can a(n) _______ do to you." One of our plans for the weekend was to visit SeaWorld and I was telling him about going to see the Shamu show.
Aunt Airplane, I don't think I'll like Shamu. That black and white whale can kill me. The baby Beluga is better.
Strangely enough, there was a baby Beluga at SeaWorld who was born on Biggie's birthday last year. Though I must tell you - the water was not warm.