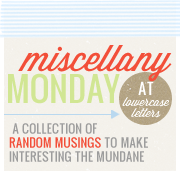 1. I got great news this weekend!
The family I babysat for in high school is moving back to Arizona!
Seriously, I watched the boys when they were this small:
and now they are this tall:
And they have a little sister who is ALL girl:
The last time they were in Arizona was probably five years ago.
I'm SO excited for them to be back!
2. I'm thinking about doing some Christmas baking today.
I don't know what I'll make, but I have lots of free time and a ton of recipes I want to try.
Who wants to be a taste-tester?
3. This afternoon I have to go help Granny B.
Stay tuned - something tells me there is going to be a great story!
4. I did some Christmas decorating.
I'm no Martha Stewart, but I like what I've done.
M used to collect Santa Claus figurines, so each year we would get her one.
Last year she gave them all back, our family gave her this one in 1987 - that was before SuperFan was born...
I thought about getting a Christmas tree, but time got away from me.