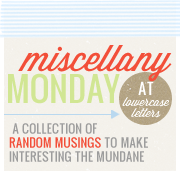 Ahh, Miscellany Monday....
I feel like we are kindred spirits.
With the randomness and all.
ONE
OB-SESSED! That is what I am! With Biggie and Tiny. I'm not kidding - it is officially out of control! But I feel like I have good reason - they are stinkin' A-DORABLE!
While I was in DC, both of the boys were at Match's house. On Tuesday, I was standing in front of the US Capitol building, chatting with Match on the phone until I had to go meet a friend for coffee. She was about to take the boys on a walk so she handed the phone to Biggie to distract him while she got Tiny ready.
Biggie: Aunt Wo?
Me: Yes, Biggie.
Biggie: Are you in the United States of America?
Me: Yes, I am.
Biggie: Can you see a United States of America flag?
He LOVES the United States of America flag - I think he takes after me.
TWO
Well, here we are - the time of year where everyone gets super stressed out trying to find the best presents for the best prices. Totally disregarding the joy that should come from gift-giving. Paying no attention to the reasons that we celebrate Christmas.
I admit - I have been one of those people.
I'm stopping that right now.
I was talking to Glinda the other day about this whole crazy mess that has become Christmas. It led me to a revelation. I would rather buy you a gift because I was walking through a store in April and I saw something that reminded me of you than feel forced to give you a sub-par gift because that is what people do.
So, if you are thinking about buying me a Christmas gift - Don't!
I would rather have a nice conversation with you over a cup of coffee or a hand-written note when you see a card that makes you think about me and smile.
THREE
Continuing with the theme of Christmas - I am completely opposed to Christmas before Thanksgiving!
(Although, I did break that rule yesterday when Elf came on USA - I can't help it - that movie is HILARIOUS!)
I realize that it is hard to avoid since they start putting out Christmas decorations around Halloween, but I prefer to leave it for after Thanksgiving - let's give each holiday their stage.
I love Christmas music, and movies, and lights, and bows...
But I believe that I love them so much because they are supposed to happen in a small window - which makes them special. If we put Christmas trees up year-round, it wouldn't be so exciting when we put them up.
So - stop! Enjoy Thanksgiving - eat until you have to unbutton your pants. Go to bed early because you have OD'd on tryptophan. Then wake up on Friday and go crazy!
I don't even care if you go to Target at 4 am in your red jumpsuit.
(I think she could have found some more sensible shoes. But I will admit, I did think about checking out the deals.)
FOUR
I had lunch with Granny B yesterday. I love that crazy lady!
I realized that I am VERY lucky to have a family who loves and supports me so unconditionally.
Don't get me wrong - we have our issues.
But when it comes down to it - we will fiercely defend our own!
Just remember that if you think about taking one of us on.
A huge, loud, boisterous, nutty group!
FIVE
A picture from my trip to DC.
I was really bad about taking pictures on this trip.
I think it went with the relaxation portion of the vacation, but I did not take one picture in either Santa Fe or Denver and I only took a few in DC.
But there you have Thomas Jefferson - watching over the White House.
By far my favorite memorial in all of DC.