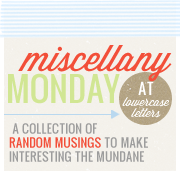 one.
FredAstaire got married on Saturday night. The wedding was beautiful!
Fred and I learned how to dance together and we went all through school together and we've been great friends forever! I was *thisclose* to being in his wedding. He married a WONDERFUL woman, Ginger*!
PapaBear and Me outside the church.
Tiny and Biggie (they are holding hands...)
two.
I don't want to pack for the week. While this new job is giving me a great opportunity to spend time with Sissy and the fam, I am really disliking having to choose my clothes at the beginning of the week and being committed to them.
three.
We moved Sissy and the fam into their new house this weekend.
I meant to take pics of the chaos for all of you, but I was working too hard. I'll try to get some pics of the place this week.
four.
I REALLY want a flip cam. I think I would enjoy filming some of the madness that is my life.
five.
I have set myself a goal of reading 30 books this year. I am at 4 so far.
I just started reading "Promise Me." Have I ever told you that I met Nancy Brinker in 2004? Yep, drove her around Albuquerque, NM.
And it reminds me that I need to start fundraising for the 3-Day. I'll put that on the list for next weekend.