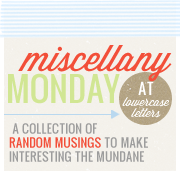 one.
beautiful surprise!
I returned home late Friday night to find the MOST beautiful gift EVER!
A friend of mine made me this padfolio with my initials on the front.
I cried. It is seriously the most beautiful gift that anyone has ever made me! (No offense to anyone who has made me a gift in the past...)
two.
Dance with the one that brought you.
I was in my office this morning and a darling old man came in to complain about the IRS. (It is a weekly occurrence with the old men in the town I work.) So we start chatting and I begin telling him about an event that we are hosting on Friday evening.
He interrupts me to tell me that he is going to a dance on Friday night. Then asks me if I dance. Obviously, I say yes - I love to dance!
So he proceeds to tell me that every Friday night at the RV Park up the road there is a dance with a good band and I should join him some time.
Then he tells me that he tried to go dancing at another place in town, but the music was not good because you couldn't cuddle up.
I'm thinking I won't join him at the RV Park dance anytime soon...
three.
So sad...
This week is the annual convention for the National Cattlemen's Beef Association.
So many of my friends are going to be there, and unfortunately, my schedule isn't allowing me to attend.
Though, I'm not sad about missing out on the weather - single digits tomorrow - no thanks!
four.
ICYMI.
If you have not yet done so, please watch the Joe Nichols video below.
"...the one thing you gotta believe in is...you gotta believe in yourself."
I'm telling you what - if you start feeling down, just watch that video - you'll start to view things with a different perspective.
To read about the heroes who appear in the video, go to the Lone Survivor Foundation.