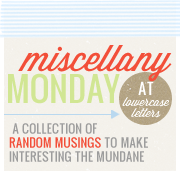 For today's edition, some miscellaneous things that I love...
One
Family Vacation.
We just got back from our family vacation to the mountains. It included sledding, matching shirts, food, matching jackets, games, family pictures, movies, and much, much more.
I may be biased, but I think our family vacations blow everyone else's out of the water.
Two
41 and his Bride.
Seriously, how cute is it when he gets choked up at the end? What a guy!
Three.
My Valentines
I can't wait to get home tonight to hug these precious boys!