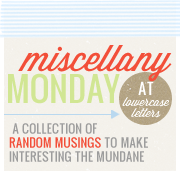 one.
Wild Weekend
Why is it that my weekends are never relaxing?
On Saturday, Dirty and I began our adventure of planting our own garden by building a raised vegetable bed (more on that later this week). At one point we had to stop by H&M's for a few supplies where H gave us one of his home-grown heads of cabbage as big as my head.
(please excuse the no make-up and hair in this picture and focus on the cabbage)
Sunday I had breakfast with Granny B and then went to a bridal shower for Cribs (more on that later this week).
two.
Another Granny B Adventure
It looks like Granny B and I are taking a trip to the Nation's Capitol! She wants to see the cherry blossoms and doesn't want to go alone.
I'm sure this is going to be more fun than you can imagine.
three.
No Sleep Till Brooklyn
Well, really this has nothing to do with Brooklyn, but seriously I'm thinking about giving up sleep for Lent.
I keep thinking of all of the things I want/need to get done during the day and it looks like I'm either going to have to give up work or give up sleep. And since I have bills to pay, sleep may be the only option.
My plan this week was to do P90X abs every morning and run every evening. Then I realized that I have to speak at a breakfast meeting two hours from Sissy's tomorrow so that means abs are out. Then I want to run when I get home and cook and eat dinner. Which leads to cleaning the kitchen. And before you know it - it's midnight. I just don't know what the answer is. That doesn't even take into account the fact that I want some of those dinners to be new recipes and trying things out.