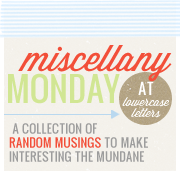 one
unplanned break
I'm sorry I have been MIA for a week. I was catching up on life and relaxing a little last week and for some reason blogging didn't fit in.
I'm back now though - don't worry.
two
wonders never cease
Well, we ran Pat's Run this past Saturday. And as you'll remember I was scared about going 4.2 miles...
I am happy to report that Cribs, Glinda, and I ran that race in 43:53. Yes, friends - that is a 10:26 mile! I continue to amaze myself.
three
put the lime in the coconut
As you may know, I try to eat (mostly) Paleo. One of the changes that I have made on this eating plan is that I have switched from half-and-half in my coffee to coconut milk. (I'm not quite cowboy enough for black coffee yet.)
I LOVE coconut milk! But I have recently learned that you can not buy the store brand of this product - it will.not.be as good. Trust me on this one.