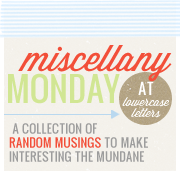 (Ok, I'll play along this week...)
one. Week 3 of P90X is underway. Lord, help me make it through - I just realized that week 4 has two days of yoga.

Eek!
two. The more I see my nephews, the more I miss them. For example, I just spent a better part of Saturday with them and today, my heart aches to hold them.
three. I got a pedicure this weekend,

O'Dub

and I are currently arguing about whether my toes are now pink or red. (I vote pink...)
four. I am currently looking for a skirt that matches the orange snake-skin print on these new shoes. HELP!
five. My blog needs a new design and a new feel - stay tuned for a

makeover

soon.
six. I have some
Asian short ribs
in the crock pot at home and I am drooling just thinking about them!
seven. We are creeping closer to my favorite holiday of the year and I currently don't have plans for a

celebration

- I'm freaking out a little.
eight. I don't have a lucky number. Should that concern me?