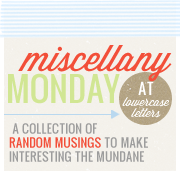 one. I slacked a little on

P90X

last week. I feel really bad about it. I'm going to be better this week, I really am.
two. Tomorrow is my follow up from my

skin cancer screening

. I don't think I told you, but they did two biopsies on my back. I'm not super nervous, but it is a little scary.
three. I still haven't started fundraising for my

3-Day Breast Cancer walk

in November. I really need to do that.
four. It may have occurred to me this weekend that I use

Biggie

as an excuse when I want to do childish things. For example, go to the Railroad Park or see Sesame Street Live. Is that wrong?
five. This weekend is the

Fourth of July!!

I'll be celebrating it in small town fashion in the southern part of the state. I'm talking about parades, street fairs, and rodeos. I can not wait!